Fred Hoiberg Iowa State Cyclones Playbook
by Wes Kosel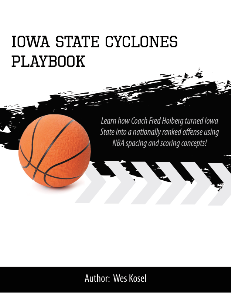 Learn how Coach Fred Hoiberg turned Iowa State into a nationally ranked offense using NBA spacing and scoring concepts!
Learn from one of the hottest coaches in college basketball with the Fred Hoiberg Iowa State Cyclones Playbook!
The 2013-2014 Iowa State Cyclones finished the season ranked 5th in the nation in points per game (83.0), 11th in total 3-point field goals made, and 1st in assists per game (18.4).
The Cyclones won the Big 12 Conference Tournament this season and also made it to the Sweet 16 of the NCAA Tournament.
Learn the offensive principles Coach Hoiberg uses to create open shots and penetration opportunities.
Hoiberg is big on spacing, and has taken many NBA concepts and formations from his experience as a player in the NBA.
The Cyclones are one of the best 3-point shooting teams in the country because of the spacing around the perimeter, spacing on the pick & roll, and spacing on the drive & kick.
This playbook includes 82 plays and over 90 pages of material.
You will learn how Hoiberg runs his man offense, quick hitters, and out-of-bounds plays. Here is what you will get: • 2-3 Offense: 29 Plays • 3 Guard Offense : 7 Plays • 4-Out Offense: 6 Plays • Spread Offense: 6 Plays • Horns Set: 15 Plays • 1-4 High: 5 Plays • 1-4 Low: 5 Plays • Box/Diamond: 2 Plays • BLOB: 6 Plays • SLOB: 1
Get this playbook now and learn from one of the best offensive minds in college basketball!
Click to buy the 2 eBook bundle for $25.00! You can pay with a Credit Card or Paypal.
After you make your purchase, you will receive an email with download instructions
If you need any customer support before, during, or after your purchase, please contact
Brian Williams [email protected] or call 765-366-9673
Ultimate Matchup Zone Playbook
by Coach Scott Peterman

You will understand how to "match-up" and cause confusion for the offense with a defense that conforms to their formations.
This match-up zone is the ultimate match-up zone defense because it deals with every scenario when it comes to a ball screen and all the different pick and rolls.
This match-up zone defense will help develop your player's communication, stop great scorers, great scoring teams, employ man defense principles, and be difficult to scout.
It can be used with big and small teams.
This NBA Match-up Zone can be utilized on the College and High School levels with ease.
Confuse your opponents with a new wrinkle in the late half of the basketball season and especially for the play-offs.
Disrupt their offensive flow!
Click to buy the 2 eBook bundle for $25.00! You can pay with a Credit Card or Paypal.
After you make your purchase, you will receive an email with download instructions