2013-2014 ACC Conference Playbook
2013-2014 ACC Playbook This 91 page playbook features 75 plays from the 2013-2014 ACC teams. The ACC annually ranks as one of the top basketball conferences in the country. Learn the plays that Virginia, Duke, Syracuse, and the rest of the ACC used to win in conference play. The 2013-2014 ACC Playbook highlights 5 plays from each team including 68 set plays, 6 baseline out-of-bounds plays, and 1 zone quick hitter.
The conference has outstanding coaching talent including Mike Krzyzewski, Jim Boeheim, Roy Williams, and Tony Bennett. Learn how Coach K used the 1-4 High to get his guards open shots, how Roy Williams used the Box Set to score in the post, and how Jim Boeheim used the Horns Formation to beat his opponents.
What you will get: • Boston College Eagles – Coach Steve Donahue o 5 Set Plays • Clemson Tigers – Coach Brad Brownell o 5 Set Plays • Duke Blue Devils – Coach Mike Krzyzewski o 5 Set Plays • Florida State Seminoles – Coach Leonard Hamilton o 5 Set Plays • Georgia Tech Yellow Jackets – Coach Brian Gregory o 5 Set Plays • Maryland Terrapins – Coach Mark Turgeon o 3 Set Plays o 1 Zone Quick Hitter o 2 BLOBs • Miami Hurricanes – Coach Jim Larranaga o 4 Set Plays o 1 BLOB • North Carolina Tarheels – Coach Roy Williams o 5 Set Plays • North Carolina State Wolfpack – Coach Mark Gottfried o 3 Set Plays o 2 BLOBs • Notre Dame Fighting Irish – Coach Mike Brey o 5 Set Plays • Pittsburgh Panthers – Coach Jamie Dixon o 5 Set Plays • Syracuse Orange – Coach Jim Boeheim o 5 Set Plays • Virginia Cavaliers – Coach Tony Bennett o 4 Set Plays o 1 BLOB • Virginia Tech Hokies – Coach James Johnson o 4 Set Plays o 1 BLOB • Wake Forest Demon Deacons – Coach Jeff Bzdelik o 5 Set Plays
Get the 2013-2014 ACC Conference Playbook now and take your offense to a whole new level!
Click to buy the 2 eBook bundle for $25.00! You can pay with a Credit Card or Paypal.
After you make your purchase, you will receive an email with download instructions
If you need any customer support before, during, or after your purchase, please contact
Brian Williams [email protected] or call 765-366-9673
Louisville Cardinals Playbook
by Coach Scott Peterman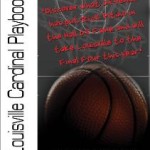 The absolute most effective method for improving your W-L record is this – study what other winning coaches do, and adapt it to fit your squad.
Gain Instant Access to the Master Playbook of Legendary Coach Rick Pitino and Discover, Execute, and Win From the EXACT Plays That's Helped Him Take Three Different Teams to the Final Four.
Plus, You'll Also Get an Exclusive Zone Offense Scouting Report Containing 13 Different Looks Versus a Zone.
That's exactly why I've assembled together some of his most dominant plays across 52 set plays and 124 pages of pure gold.
35 Man Set Plays, 8 Baseline Out of Bounds Plays, 5 Transition Offenses, 1 Zone Offense, 3 Press Offenses.
In addition to this, you're also going to get an exclusive zone offense scouting reports that has 13 different looks versus a zone. Another 31 pages of highly valuable information…..that you simply won't find anywhere else.
Click to buy the 2 eBook bundle for $25.00! You can pay with a Credit Card or Paypal.
After you make your purchase, you will receive an email with download instructions